RMST - Premium Complete
Ref. RMST-1A 120V, RMST-2A 230V, RMST-9A 100V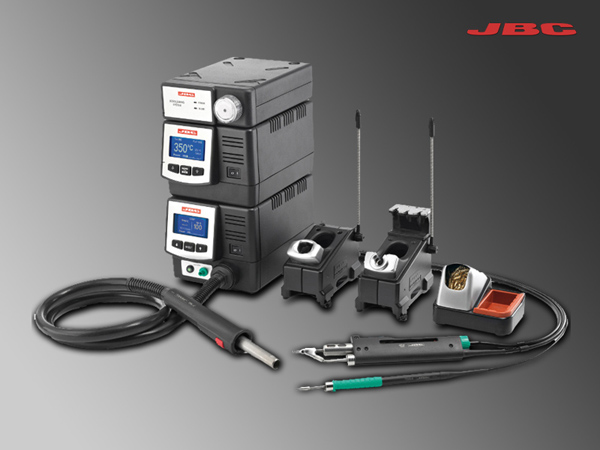 RMST station is a complete solution to repair and rework quick and safe electronic circuits.
It incorporates the JBC exclusive heating system, even the intelligent sleep and the hibernation feature.
Using the menu you can personalize more than 20 functions to manage any soldering or desoldering process.
It is composed by three stackable modules and all necessary accessories to make your job easier.
Although other JBC tools suit the units, the RMST works simultaneously with the DR560, the T245 and the JT/TE tools.
Composition
Hot Air:
Control Units:
Stands:
Tools:
Cartridges:
Accessories:
Features
Weight
14.9 kg (32.8 lb)
Size
See individual modules
Voltage(AC)
230V / 120V / 100V
Output Peak Power
150W / 23.5V (DD), 1000W (JT)
Temperature selection (DD)
90-450 ºC / 190-840 ºF
Idle Temp. Stability (DD)
±1.5 ºC / ±3 ºF
Temperature selection (JT)
Tamb - 450º C / Tamb - 850 ºF
Idle Temp. Stability (JT)
±20 ºC / ±36 ºF
Ambient operating temp.
10-40 ºC / 50-104 ºF
ESD Safe
Air Flow Range (JT)
6 - 45 SLPM
Vacuum (MS)
75% / 570mmHg / 22.4inHg
Flow rate (MS)
9 SLPM
Package weight
16.6 kg (36.5 lb)
Package dimensions
480x375x390 mm
 

Az oldal Internet Explorer alatt nem fut helyesen!


© copyright 2012 Al-Bohacen Kft.