AL Automata forrasz-adagoló állomás
Ref. AL-1A 120V, AL-2A 230V, AL-9A 100V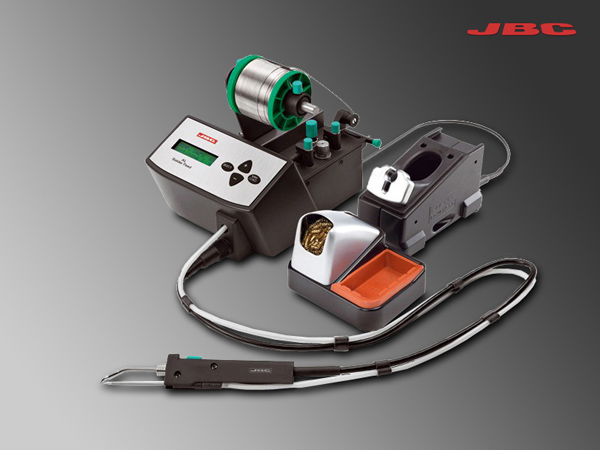 This is the ideal solution for extensive soldering applications that require one or both free hands.
The AL station automates the soldering process by feeding solder wire.
It is possible to select continuous or discontinuous operation modes.
It incorporates the JBC exclusive heating system with the intelligent sleep and the hibernation feature.
AL station works with the comfortable AL250 Auto-Feed Iron and C250 cartridges.
Premium stations feature all the necessary accessories to make your job easier.
Composition
Soldering stations:
Stands
Tools:
Cartridges:
Accessories:
Features
Weight
5.8 kg (12.9 lb)
Size
195x200x240mm
Voltage(AC)
230V / 120V / 100V
Input Fuse
1A (230V), 2A (120V and 100V)
Output Peak Power
130W / 23.5V
Temperature selection
90-450 ºC / 190-840 ºF
Tip to ground resistance
<2 ohms
Tip to ground voltage
<2mV RMS
Ambient operating temp.
10-40 ºC / 50-104 ºF
ESD Safe
Diameter of solder wire
0.4-1.5mm / 0.02-0.06in
Wire length
5-60mm / 0.2-2.36in
Speed
7mm/s (max) / 0.67in (max)
Package weight
6.7 kg / 14.8 lb
Package dimensions
370x370x200 mm


Az oldal Internet Explorer alatt nem fut helyesen!


© copyright 2012 Al-Bohacen Kft.